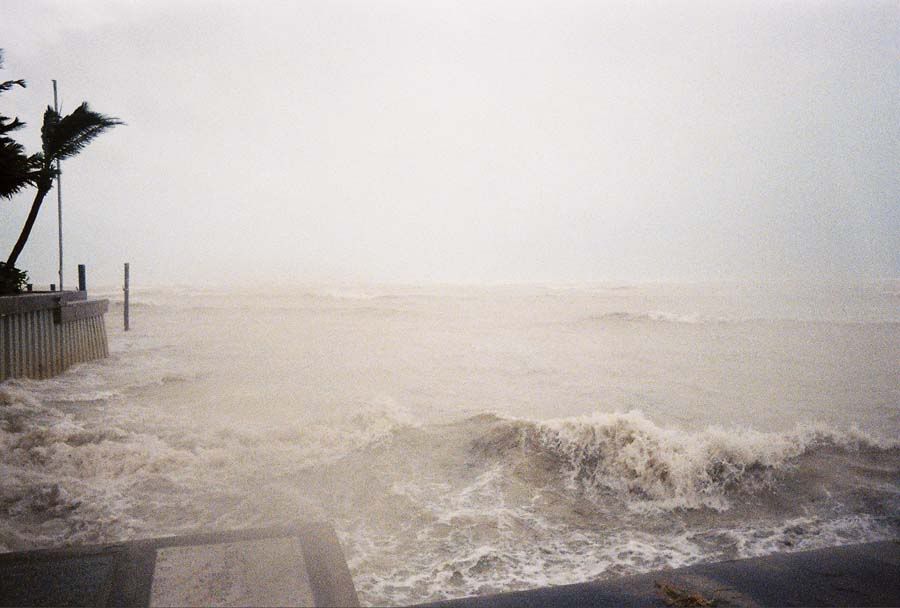 June 1992:
Everyone's telling us to leave, but we've already decided that's not an option. Vacation comes once a year, which means I can only see the ocean once a year, and I didn't make the four-hour drive from the mountains to the coast just to turn around and go home. Besides, what will soon rage outside is just a tropical storm. It's not like it's violent enough to be considered a hurricane.
And there is a strange beauty in all this swirl. The thin line on the horizon that usually separates sapphire water from cobalt sky is gone. Before me instead is a gray that gives the illusion of hole a torn in the universe that threatens to swallow us all.
The boardwalk is empty save for the brave and the stupid. I wander about, unsure if I should be included in the former or the latter. The tide flexes and roars, sending water where beach should be and breakers over the guardrails. Policemen in SUVs rove as sentinels, shouting in loudspeakers over the wind and rain for everyone to seek shelter.
I linger nonetheless, awed by the power of the sea and the smallness of myself. I grip the bench in front of me and squeeze as a sudden gale threatens to send me backward, rain now falling sideways, at first kissing and then slapping my face, and I celebrate that I am alive.
Blue lights in the distance to my left and sirens to my right converge in front of my hotel. Police and rescue personnel pour out of flung-open doors, their binoculars fixed outward toward the raging water. One of them brings a bullhorn to his mouth. Says, "Return to shore immediately."
I crane my neck around them, out towards the gray hole in the universe. A lone figure on a surfboard pops out among the whitecaps. Swallowed. Pops up once more. He sees the flashing blue lights and the man yelling at him. Reaches up with an arm and waves. Behind him comes a swell that seems stories high. He paddles after it, grips the sides of his board as the wave lifts him. He is to his feet, his arms outstretched, as if hugging the storm itself. Even in the wind and the rain, all this howl, I can hear his joy.
The wave deposits him close to shore but too far for the police to reach him. The man with the bullhorn tries once more—"Return to shore. NOW." The surfer pauses, stares at us, and smiles. He turns to head back into the maelstrom. One more wave, he asks the storm. Just one more.
When it is over, the police handcuff him and unceremoniously toss his board into the back of an SUV. It's an unfortunate end to his glorious morning. But I see the smile on his face as he's placed into custody, and it's a smile that says it was all worth an arrest.
And as I watch them leave, I know I would say the same.
March 2011:
The weather outside my window this morning reminds me of that long-ago day—gray skies, sideways rain, a gale that rattles the windows. The wavy horizon I'm used to seeing of sapphire mountains and cobalt sky is now a gray tear in my world.
I stand and stare, a cup of coffee in my hand. My thoughts drift back to the man on the surfboard, out there that day in a tempest of water and wind, all to catch that one big wave and to celebrate that he was alive.
I remember what I thought as well, that his deed was a noble one. Not in the eyes of the law, perhaps, but in the laws of existence. I remember envying his courage and the will with which he embraced that one small moment.
Yet as I sip and stare I realize how much I've changed in the years since. If I would stand and watch that man dance amongst the waves at thirty-eight instead of nineteen, I would see him as more dunce than hero. Far from believing he was embracing his life, I would think he was spoiling in an act both dangerous and stupid.
I would watch the policemen cuff him and take him to jail, and I would say he'd gotten what he deserved.
That's what I would think now, and it is not what I thought then.
And honestly, I do not know if that should make me mourn or rejoice.