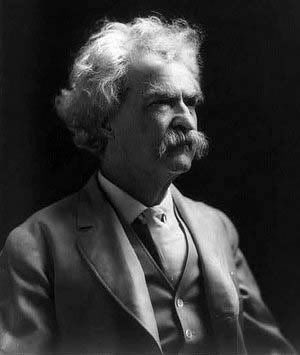 The news lately has been all about the power of words, both written and spoken. A guy like me would normally think that's a good thing. But then again, these aren't what you'd call normal times.
It began last week, when news came that Alan Gribben, a professor of English at Auburn University, is ready to publish a new edition of Huckleberrry Finn that has been scrubbed clean of all 219 mentions of what is now culturally known as "the N-word." A powerful word. In its place is now 219 mentions of the word "slave." The reason, at least in Professor Gribben's mind, was very clear: he wanted to spare "the reader from a racial slur that never seems to lose its vitriol."
Nice of him.
That was big news for a few days, and not just in literary circles. But it paled to what happened next.
On Saturday, a gunman named Jared Loughner opened fire at a "Congress on Your Corner" event by Rep. Gabrielle Giffords in Tucson, Arizona. Six were killed. Fourteen, including Ms. Giffords, were injured.
The words started soon thereafter. Powerful ones. In a matter of hours, pundits of every stripe were decrying the vitriolic (there's that word again) rhetoric now common in politics. Accusations flew. Blame was assigned. Both facts and evidence were nonexistent, which meant what the commentators on television and the Internet were saying told me little about what actually happened and much about their own view of things. That seems to be pretty usual now. More and more, what happened and why are things better left unanswered. That way anyone and everyone can be a scapegoat.
It was a sad thing to witness, all that talk. It seemed to me the rhetoric used to bemoan the sad state of political discourse was even more vitriolic than the political discourse itself.
Now comes the aftermath.
Most people—and myself included—believe all the nasty talk should be toned down. Not just in politics, either. There's little doubt our society has gotten filthy-mouthed over the years. All you need for evidence of that can be found at your child's school. It's getting difficult to not believe ours is becoming an uncivil civilization.
But mixed in with these pleas for politeness are calls for the political equivalent of Professor Gribben's punishment of Mark Twain and his so-called poor choice of words. One lawmaker is planning to introduce a bill that would ban symbols or language that threaten "a congressman, senator or federal judge."
To say it another way—No more powerful words.
It'll make things better. Safer. For us.
But I don't think so. To me, it sounds more like this: you, Naïve Citizen, and you, Fragile Reader, need us to look after you so you won't be offended or cause any trouble.
Maybe the writer in me is simply overreacting. My view of things is such that language, whether written or spoken, should be protected at all cost. Freedom cannot exist without them.
There is power in words, great power. But they aren't so powerful that they can sprout from us bounties of good or evil. Those are seeds we sow ourselves, watered by our own choices and, at least in Mr. Loughner's case, the negligence of others.
To me, the solution isn't to abolish powerful words, but to use them more wisely. Which is why I think everyone from the simple folk to the politicians should do with their words what writers do with theirs—tremble as they craft them.