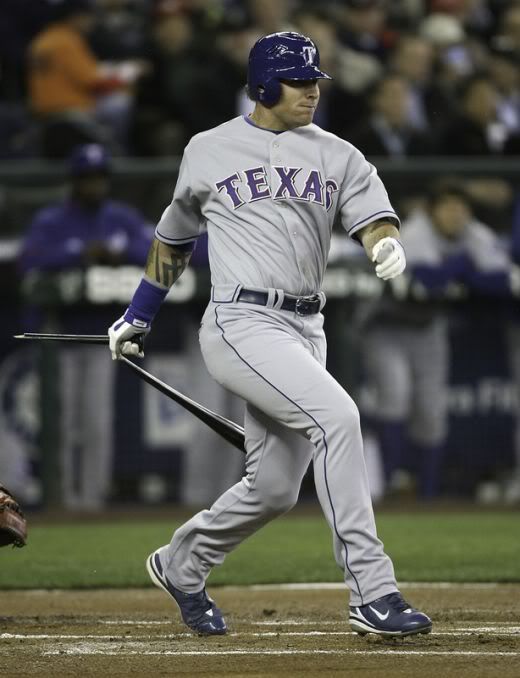 Josh Hamilton was just a kid in 1999. The only difference between him and most other kids was that he was given four million dollars to play baseball.
He was a can't-miss pick, the scouts said. A golden boy. A natural. But two years later he was involved in a car accident, and shortly thereafter began a downward spiral into drugs and alcohol. He was suspended by major league baseball for failing several drug tests. And just like that, The Natural was gone.
His story could have ended there, yet another sad tale of a promising athletic career ruined by personal demons. But somewhere along the way Josh Hamilton found something special that not only helped them beat those demons, but helped resurrect a career most considered dead.
He found faith.
The road back started with The Texas Rangers, who traded for him in 2007. Last year, he won the award for Most Valuable Player in a year that ended with the Rangers winning the American League Championship. When they celebrated afterward, the traditional champagne was replaced with ginger ale for Josh's benefit.
He's a favorite with baseball fans and open with his faith, giving glory to Christ rather than turning attention to himself. Josh Hamilton is a humble man. A good man. A natural.
Last Thursday a 39-year-old father named Shannon Stone took his young son Cooper to Arlington to watch the Rangers play. Cooper loves baseball, and he's a big Josh Hamilton fan. And though the game itself was enough, both father and son knew what they were really there for. As they took their seats in the front row along the railing in left field just in front of Cooper's favorite player, all they wanted was to catch a ball.
In the second inning a foul ball was hit down the line that Hamilton tossed into the stands. Someone yelled, "Hey, Hamilton, how about the next one?" He turned and saw Shannon sitting with Cooper and gave him a nod.
Another foul ball, this again in Hamilton's direction, which he picked up and tossed in Shannon's direction. The father reached for it, thrilled to get the ultimate souvenir.
He fell headfirst twenty feet over the railing onto the concrete below.
Paramedics rushed to the area. Shannon was bleeding was conscious—"Please check on my son," he said. "My son was up there by himself." He died before the paramedics could get him to the hospital.
It isn't enough (at least not enough for me) to say in circumstances like these that sometimes bad things happen. Not enough to say that some things just don't make sense, that dwelling upon them serves no purpose and the best thing to do is move on. I doubt little Cooper Stone is managing that feat at this moment. I doubt Josh Hamilton is, too.
"It was just hard for me, hearing the little boy screaming for his daddy after he had fallen," he said, "and then being home with my kids, really hit home last night."
He said his faith was not shaken, nor would the experience plunge him back into the abyss from which God pulled him four years ago. He plans to speak with Cooper when the time is right, and I have no doubt he will. I can only imagine how difficult that conversation will be.
If I'm honest, I'll say what bothers me the most about this is the fact that Josh Hamilton was the one who threw that ball into the stands. He with the story of redemption and the lasting faith, rather than another player with perhaps no faith at all. It's difficult enough as a believer to abide by the jabs and assaults of an increasingly secular world. Harder to know that for reasons unknown, God somehow allowed this man of faith to be involved in the death of a father in front of that father's son.
Had the ball been thrown a bit harder, had it traveled an inch farther, had it been thrown to someone else, had the pitcher thrown a curve rather than a fastball or the batter taken the pitch rather than swing, this would not have happened.
Or maybe it would have. Maybe all of this is set in stone and our time is our time and there is no changing these things. God has His reasons, however flawed those reasons may seem to pitiable creatures such as we.
I do not know.
That is not the first time I've come to that conclusion. I'm sure it will not be the last.