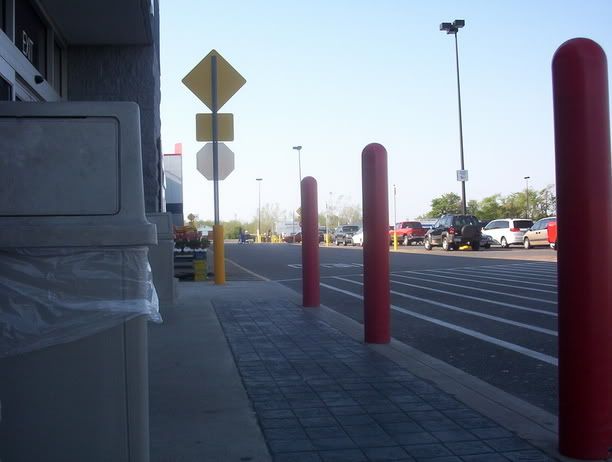 I've always had trouble with the parking lot at Wal-Mart. Don't ask me why. Maybe because it's so big or my mind is usually on what I need and what aisle I can find it. Not sure. But regardless, a trip there usually concludes with me wandering around looking for my vehicle, thinking that this must be what old feels like.
Take the weekend, for instance. Nice Saturday afternoon. Sunny. Cold but not frigid. Christmastime. And me, wandering around the west end of the parking lot feeling like one of the misfit toys.
As it is the weekend and it's only another couple weeks until Christmas, the parking lot is full of cars. Squeezing between cars and trucks, I happen upon a green mini-van. The driver is nestled snug in his seat, seatbelt on, and dead to the world.
Lucky guy, I think. Lets his wife go into the throng of crazed discount shoppers. Lets her fight and claw and scream for the last Elmo or Barbie, and then lets her stand in line alone for half an hour while since only three of the forty checkout lines are open. And he gets to snooze in the mini-van.
Then something about him catches my eye. Not something in particular, but overall: longish white hair and beard, red shirt and pants, and a jelly-like pudge in the midsection.
This was no mere guy.
This was Santa.
One of his eyes opens and stares at me staring at him. We're locked that way for a moment, each trying to figure out what's going on and what's happened. I smile. He smiles.
"Hiya," he says, rolling down the window.
I nod. "Guess if anyone's tired this time of year, it'd be you."
He lets out a long exhale, shakes his head, and says, "Buddy, you don't know."
Santa, as it turns out, isn't Santa at all. Fred's his real name. Just finished his shift at a local store and was on his way home when Mrs. Fred called. Could he stop by Wal-Mart and pick up a few things?
He'd made it, but barely. Having kids sit on your lap for four hours tends to tucker a person out, Fred said. As soon as he put the car in park he felt that warm sunshine streaming through the window. Next thing he knew, he was awake and staring at me.
"Been a rough year," he told me. "I'm used to kids wanting things, you know? 'I'd like a truck' or 'I'd like a dolly' or 'Could you bring me a dinosaur?'"
"What's the big gift this year?" I asked him.
"Hope," he said. "Kids want hope."
Those words stunned me. I swallowed nothing and furrowed my brow.
"What you you mean?" I asked him.
"Shoot, son," he said. "Take a look around. It's bad out here. Money's dryin' up, parents losin' their jobs. I had a kid sit on my lap this morning and ask me to find his daddy a job. Had another who just wanted her mommy to stop crying all the time. And one, one said his daddy told him Santa might not come this year, but he knew that since he'd been a good boy, Santa'd have to come and leave him something. And that's just today. Just today, you see? Hey, don't get me wrong. I love Christmas. But between you and me, I'll be glad when this one's over."
"Guess so," I said. "I'll leave you to your napping, then."
"Thanks," Fred answered. "And Merry Christmas."
"Merry Christmas."
I found my truck right where I left it and decided to drive by Fred on my way out of the lot. He was asleep again.
My ride home wasn't filled with Jimmy Buffett's Christmas Island or Harry Connick Jr.'s When My Heart Finds Christmas. There was instead only silent contemplation.
Hope. That's what Fred said the kids want this year. I would imagine that's what a lot of grownups want this year, too.
Sad, isn't it, that for many people this time of year isn't a time for hope? For presents, certainly. And for family. But not hope. Christmas was turned into X-mas, which has now been turned into Holiday (that story comes tomorrow). All of this was conceived to keep everyone happy. To include everyone and give no reason for offense. But by doing so, I fear we've buried the very hope so many people seek this year.
The hope that was born on Christmas day a couple thousand years ago in a tiny manger in a tiny town. Hope wrapped in a baby.