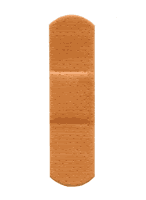 I almost lost my finger a little bit ago. That may be a slight exaggeration. It wasn't so much that I severed it with a meat cleaver. Didn't cut it with a knife, either. And okay, I didn't run it through a window.
It was actually a job-related injury. A paper cut. I was writing, went to turn the page, and sliced my index finger.
In my defense, it did bleed. And it hurt.
I decided to take a break from writing and watch a little television while I healed. The news was on—the news is always on in my house, and I hate myself for it. There was an interview with a man who had lost his family during a demonstration in some Middle Eastern country. I'm sure they said which particular country it was, but I was busy sucking on my index finger. Paper cuts are awful.
Anyway, this man.
Went to a demonstration with his wife and child. Not a protest, mind you. No violence or shouting or burnings in effigy. He just wanted to participate in a gathering of like-minded people who were fed up with totalitarianism and fear. The ruler—king, perhaps?—had been in power for years, siphoning off money meant for his people to line his own pockets.
The name of the ruler (or king) was…something. Abdul, maybe? I remember it was a long name, four or five words, but I can't remember exactly. I suppose that was around the time I was looking for a Band-Aid.
Back to the man. Everything was going so fine for a while. The people were excited. Hopeful, even. That in itself was a miracle, as this man's country, these millions of people, had not known hope for generations. The protests in Tunisia and Egypt had emboldened them. If change could come to those countries, why not there? Why not then?
The police came. I remember seeing footage of that. Men with guns and sticks and tear gas, firing into this peaceful crowd, snatching that hope away. I remember a reporter's voice, then the man again, crying and bloody and talking of his family—his wife and child. They were lost. Or dead. One of those two.
My Band-Aid was too tight. I took it off and tried putting it on again, but the ends rolled up and it wouldn't stick to the skin. I had to go find another one. By the time I got back from the bathroom, the station had gone to a commercial about how wearing Old Spice and make the ladies love me like they do that cool black guy with the deep voice.
That's when it hit me, how horrible I am.
I like to think I have a soft heart. People have told me such on quite a few occasions, and I've always taken it as a compliment. I know well this world can harden a person, leave him uncaring and apathetic. Not me. I care. I do. Any other time I would have watched that entire segment with my undivided attention. I would have mourned for and with that man. I would have prayed for him and his family.
A soft heart is a virtue, I think. No less than love or courage or honor. And I suppose such things are called virtues for the simple reason that they are so difficult to obtain. I discovered that just a little bit ago. That at our core, we are helpless, fallen creatures who forever put themselves before others.
For proof, all I need to do is look at my hand and know that the smallest cut on my finger gave me more concern than the suffering of millions of my fellow human beings.